QUESTION 71
A Cisco 7600 series Router is experiencing high CPU utilization and poor forwarding performance. Investigation reveals that packet forwarding has been punted to the RP. What are two possible causes of this behavior? (Choose two)
A. The routing table is too large
B. Liberal retention mode has been disabled
C. An insufficient number of flow masks are configured
D. A large number of access list entries are configured
E. IGP timers need to be returned to improve routing convergence
Answer: BD
QUESTION 72
Refer to the exhibit. A layer 3 VPN is configured between PE1 and PE2. CE1 is connected to PE1. CE2 is connected to PE2. CE1 and CE2 are in VRF red. From which router does the prefix 10.170.170.0/24 originates?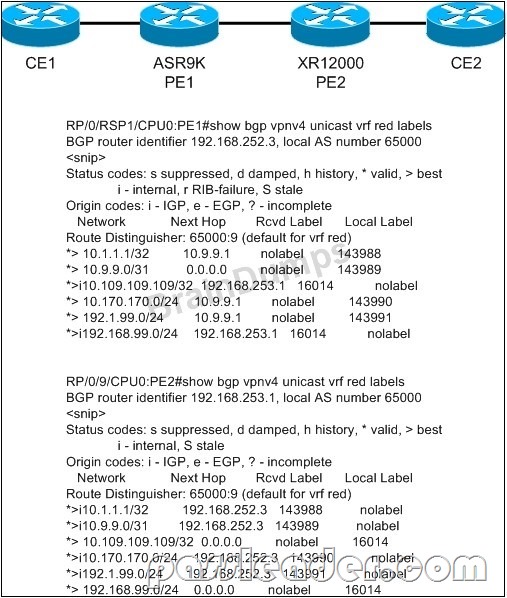 A. CE1
B. PE1
C. PE2
D. CE2
Answer: A
QUESTION 73
Layer 3 VPN is the primary service running on your network. You have POP locations and recently you have seen memory and CPU utilization go above 90% in two out put of four PE devices in one POP location. You have maximum-route-limit configured for each VPN. What additional parameter should be monitored proactively to address these issues?
A. Number of prefixes per VRF route in the router
B. Number of VRFs configured on each Router
C. Number of route targets for each VRF
D. LDP neighbor statistics for any flaps
E. Packets in and out for each VRF
Answer: D
QUESTION 74
Refer to the exhibit. Which two statements are true? (Choose two)

A. 150.1.12.16 is directly connected subnet
B. The router is advertising label 20 destinations 192.168.1.33.
C. The upstream P router is to perform PHP for destinations on 192.168.1.48
D. The forward data to device on the network 150.1.12.32 the router will remove label 22 and impose label 23
Answer: BC
QUESTION 75
Refer to the exhibit. The command was executed on cisco XR12000 series router. The router is directly connected to a remote PE, which has router ID of 192.168.253.3. A single CE is connected to the remote PE. Based on the command output, which label allocation mode is remote PE running?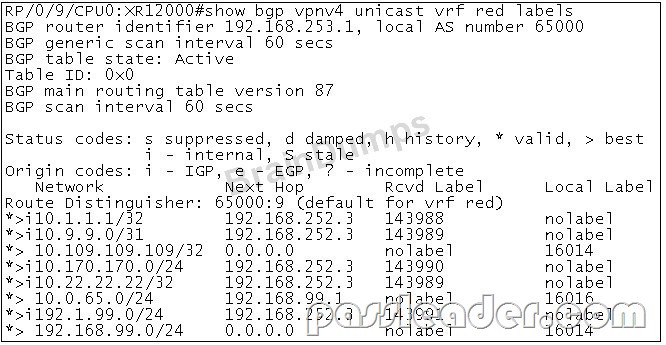 A. Per-prefix
B. Per-ce
C. Per-vrf
D. Per-pe
Answer: C
QUESTION 76
Which MPLS layer 2 VPN services strip 802 .1q tags before encapsulating the frame? (Choose two)
A. Ethernet over MPLS port mode
B. Ethernet over MPLS VLAN mode
C. MPLS Bridging
D. MPLS VPLS
Answer: BD
QUESTION 77
Refer to the exhibit. The command in the diagram was executed from a cisco ASR 9000 Series router. Which statement is true?


A. 192.168.253.1 is router ID of the ASR9000
B. The ASR 9000 will use label 16004 to reach 192.168.253.1
C. The ASR 9000 will perform penultimate hop popping on packets destined to 192.168.253.1
D. The ASR 9000 advertises a label of IMP-NULL to its peers for 192.168.253.1 reachability
Answer: C
QUESTION 78
You have implemented MPLS-TE on the core and enabled Fast Reroute. BFD is configured on the core facing links.
Every thing was working normally until last month when you added video service on the network. Because of business requirements, video packets are treated as high priority and 70% of bandwidth is allocated for the low latency queue.
Recently you noticed BFD session losses and MPLS-TE tunnel flaps on the network. Which parameter should you have mentioned proactively to avoid this issue?
A. BFD session timers and hello message
B. MPLS-TE tunnel bandwidth and utilization
C. QoS drops for each class of service on core-facing links
D. CPU utilization on the PE routers
E. Latency and jitter between PE routers
Answer: A
QUESTION 79
A customer has stated that they can not access network 10.450.16.0/24 from one of there sites (Site C). The customer has a layer 3 MPLS VPN between three sites (site A, site B, site C) connected in full mesh topology. They do not have any issues with accessing other network addresses located in site A and site B. Assuring the PE devices are running Cisco IOS, what are the two troubleshooting commands you should execute on the PE router connected to site C to isolate the issue? (Choose two.)
A. Show ip vrf VRFNAME detail to check the route targets
B. Show ip vrf VRFNAME detail to check the vrf routes
C. show mpls l2transport binding to check local and remote labels
D. Show MPLS interfaces INTERFACENAME detail to check MTU size
E. Show ip bgp vpnv4 vrf VRFNAME to check advertised VPNv4 prefixes
Answer: BE
QUESTION 80
Refer to the exhibit. The command was executed on a Cisco XR12000 series router. Which statement about the tunnel displayed is true?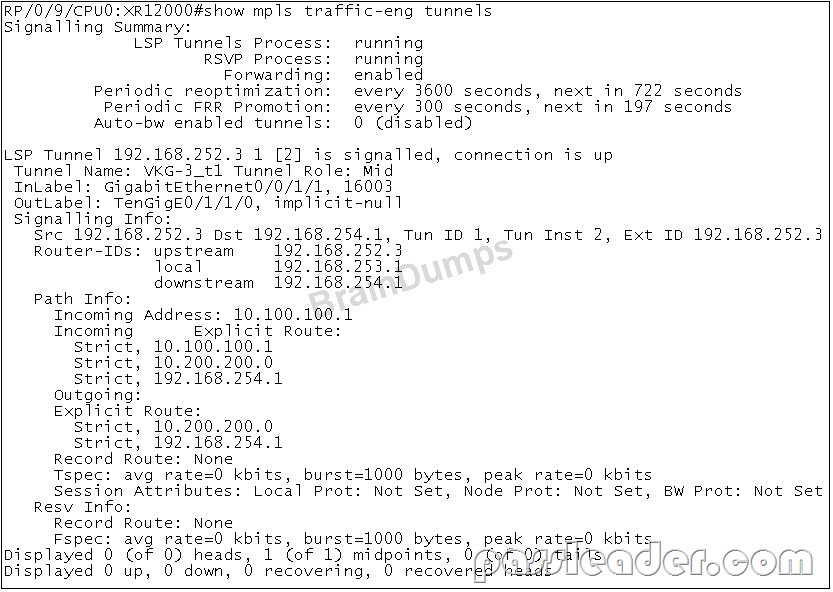 A. The command was executed on the head end of the tunnel
B. A label of 16003 will be used to reach the next hop for the tunnel
C. 10.200.200.0 is the IP address of remote interface of the next downstream hop for the tunnel.
D. The command was executed on the tail end of the tunnel
Answer: D
New Passleader Cisco 642-780 Practice Tests Dumps Download For Free