QUESTION 11
Refer to the exhibit. Given the partial configuration, which statement is true?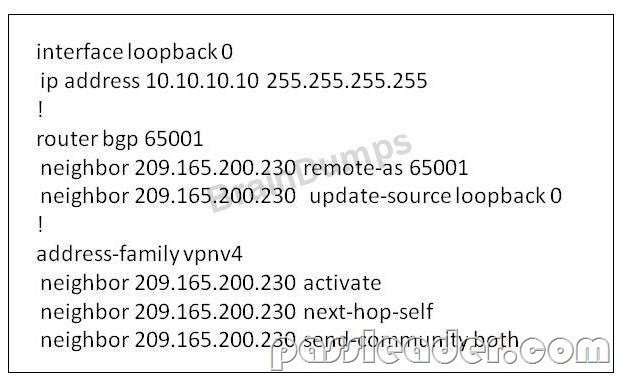 A. The 209.165.200.230 router is a P router
B. The 209.165.200.230 router is a CE router
C. The 209.165.200.230 router is a PE router
D. The 209.165.200.230 router is a customer oriented behind the CE router
Answer: C
QUESTION 12
What happens to a captured ingress MPLS packet that has the header 0x00 0x00 0x7B 0x01?
A. The packet will be dropped because it uses an incorrect label
B. The packet will be dropped because it reached its TTL limit
C. The packet will be dropped because its EXP value is corrupted
D. The packet will be MPLS switched because nothing is wrong with it
Answer: B
QUESTION 13
Which four tasks are used to configure MPLS? (Choose four)
A. Create a VRF instance for the VPN
B. Assign customer interfaces (access links ) to a VPN
C. Enable the VFI and MPLS encapsulation
D. Configure the TE tunnel per PE interface
E. Configure the IP address on the VRF interface or subinterface
F. Configure the CE to PE customer routing
Answer: ABCE
QUESTION 14
Which three layer 2 products are supported on the attachment circuit by Cisco IOS MPLS Layer 2 VPNs? (Choose three)
A. EtherChannel
B. Token Ring
C. HDLC
D. Multilink PPP'
E. Frame Relay
F. AAL5
Answer: CEF
QUESTION 15
Drag and Drop Questions
Drag the list of commands on the left to the proper command categories on the right.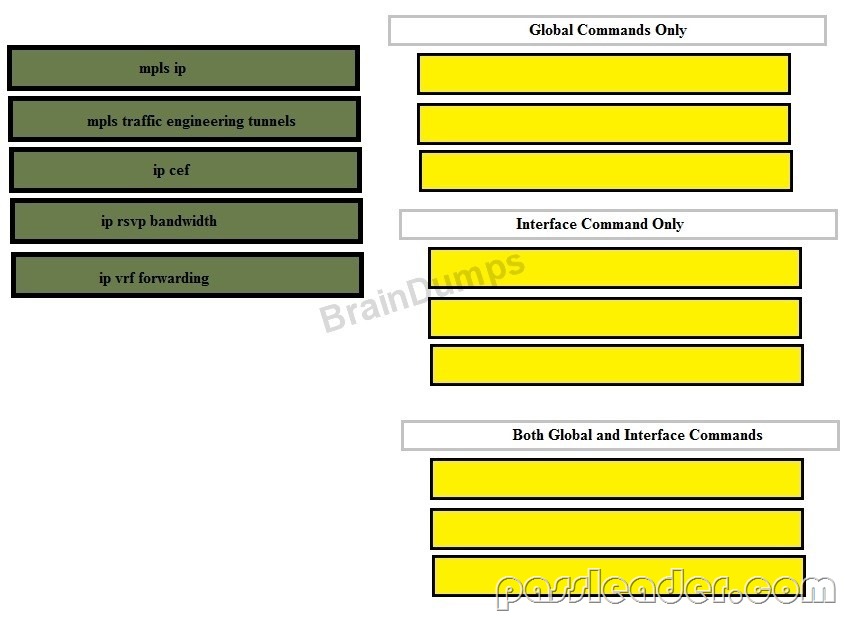 Answer: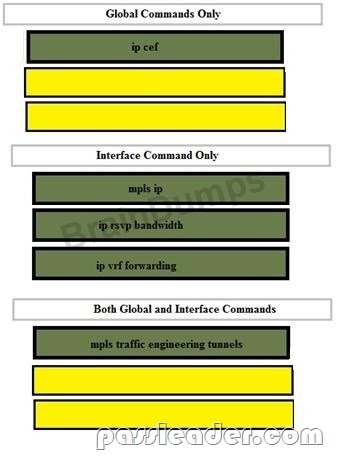 QUESTION 16
Customer A is experiencing intermittent network performance problems. The SP NOC has determined that the "MPLS blackhole" is occurring during network convergence events. The suspected cause of the MPLS VPN traffic issue is that the customer's IGP (OSPF) is converging faster than the LDP. What MPLS feature can be configured to eliminate the problem?
A. Decrease the OSPF convergence timing (throttle timer)
B. MPLS VRF protection feature
C. MPLS fast reroute feature
D. MPLS LDP Sync feature in OSPF
E. Use Cisco MPLS Auto bandwidth Allocator
Answer: D
QUESTION 17
When MPLS VPN services are implemented, which CE-PE routing method does not require the use of the redistribute command to advertise customer routes between sites?
A. Static routing
B. RIP
C. EIGRP
D. OSPF
E. BGP
Answer: E
QUESTION 18
Refer to the exhibit. A service provider sees the following output indicating some problems. What are two possible causes? (Choose two)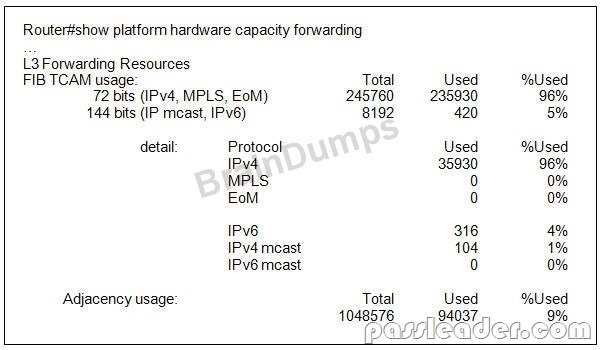 A. The router has not been configured with SSO
B. The router has an inappropriately dimensioned policy feature card.
C. The IGP timers of the router have been overturned
D. The router has not been configured with MPLS TE automatic tunnels and fast Reroute
E. The router has too many entries in its routing table
Answer: BE
QUESTION 19
You have configured a Layer 2 VPN circuit between two PE routers, PE1 and PE4. For some reason the VC circuit is not coming up. You checked the status and VC was down at both sides. After careful verification you have ruled out any Layer 2 VPN control plane configuration issues. Assuring that PE devices are running cisco IOS, what two additional troubleshooting steps should help identifying the problem? (Choose two)
A. Show mpls forwarding-table for local circuit mismatch
B. Show mpls 12transport hw-capability to check hardware capability
C. show mpls l2transport binding to check for MTU
D. Show MPL12transport binding to check VC labels
E. ping mpls pseudowire to check MTU mismatches in the core
Answer: CE
QUESTION 20
What does this Cease Notification Syslog message indicate? May 19.12.43.45 CET: % BGP-3-NOTIFICATION: received from neighbor 10.1.2.3 6/1 (cease) 0 bytes.
A. The port is shut down
B. The connection was rejected
C. BGP became disabled
D. The maximum number of prefixes was reached
Answer: D
New Passleader Cisco 642-780 Practice Tests Dumps Download For Free