QUESTION 1
A service provider is running OSPF and has turned the network for fast convergence. The service provider has determined that its routers should also be configured for LDP synchronization. If the service provider follows ITIL-based practices, how should this change be treated?
A. As a standard change
B. As a minor change
C. As a major change
D. As an emergency change
Answer: D
QUESTION 2
What are three basic functional requirements when configuring MPLS layer 2 VPLS? (Choose three)
A. A CE to PE routing protocol must be used to exchange routing prefixes
B. A full mesh of pseudowire (emulated VC) connections must be used between PE routers
C. Each PE must have a VFI configured
D. LDP protocol must be running
E. Auto discovery is needed to identify endpoints outside of the VPLS domain.
Answer: BCD
QUESTION 3
Refer to the exhibit. Which statement about the two show commands output is true?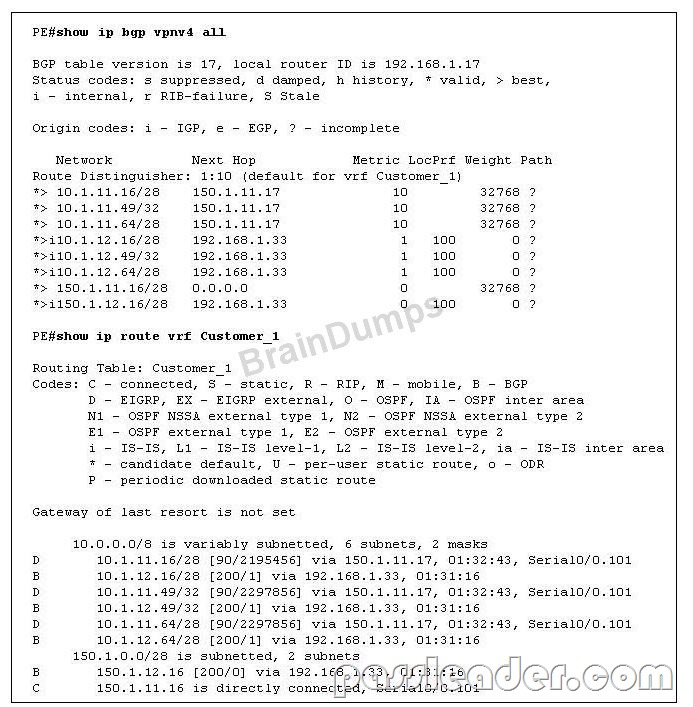 A. The CE-PE routing protocol between the PE and the Customer_1 CE router is BGP.
B. The PE router has learned four prefixes over the multiprotocol BGP session.
C. 192.168.1.33 is the CE router and 150.1.11.17 is the PE router.
D. The PE router is supporting more than one MPLS Layer 3 VPN customers.
Answer: B
QUESTION 4
What are four essential parts of the MP-BGP VPNv4 update? (Choose four)
A. LDP label
B. VPN label
C. IPv4 prefix with route descriptor
D. LSP identifier
E. BGP next-hop address
F. Route targets (extended communities)
Answer: BCEF
QUESTION 5
What function does MP-BGP provides that is required for MPLS layer 3 VPM services?
A. MP-BGP modifies or swaps the LDP label to indicate the next-hop router in MPLS cloud
B. MP-BGP provides the penultimate hop popping function
C. MP-BGP performs the standard MPLS LDP functions in layer 3 environment
D. MP-BGP advertises the VPN label and identifies the correct egress PE interface
Answer: D
QUESTION 6
Which decode corresponds correctly to this MPLS header. 0x00 0x04 0xAB 0xFE?
A. Label: 0004, Exp AB. S:1.TTL:7E
B. Label: 0004A. TTL:BF.Exp:8. S:0
C. Label: 0004A , Exp: 5, S: 1, TTL: FE
D. Label: 0004. TTL:AB.Exp:7E.S:1
Answer: C
QUESTION 7
What four layer 2 MPLS VPN parameters are collected from a customer service record database to troubleshoot a VPN connectivity issue? (Choose four)
A. Attachment circuit information
B. UNI interface encapsulation
C. Hop-by-hop LDP information
D. Virtual circuit ID information
E. Unique service identifier
F. PE loopback information
G. Layer 2 MPLS VPN service type
Answer: ABDG
QUESTION 8
The SP NOC has determined that a significant number of broadcast packets are being received from customer A. which could be a DoS attack. Customer A is using MPLS layer VPLS services the exercise broadcast traffic is causing degrading performance and over utilizing the access links. Which of the cisco IOS XR MPLS layer 2 configuration parameters can be used to mitigate the problem?
A. The storm control parameter under the 12vpn bridge group
B. The storm control parameter under the 12vpn xconnect group
C. The limit-broadcast parameter under the 12vpn bridge group
D. The storm control parameter under the 12vpn xconnect
Answer: A
QUESTION 9
Drag and Drop Questions
Drag the attributes on the left to the appropriate categories on the right. Note that not all slots may be uses.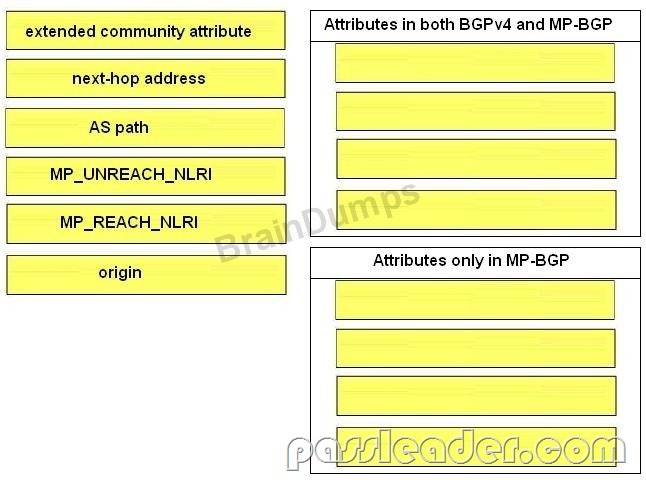 Answer: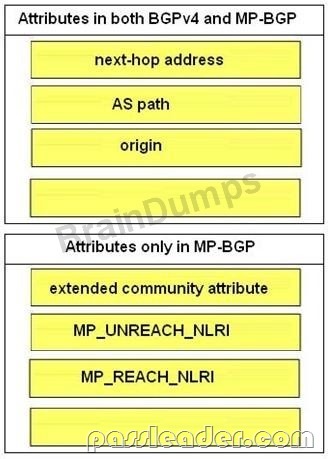 QUESTION 10
Which two IP SLA probe types can be used to monitor MPLS and VPNS for SLA compliance? (Choose two)
A. UDP echo
B. UDP echo ping
C. MPLS LSP ping
D. UDP delay
E. VRF
F. HTTP
Answer: CE
New Passleader Cisco 642-780 Practice Tests Dumps Download For Free